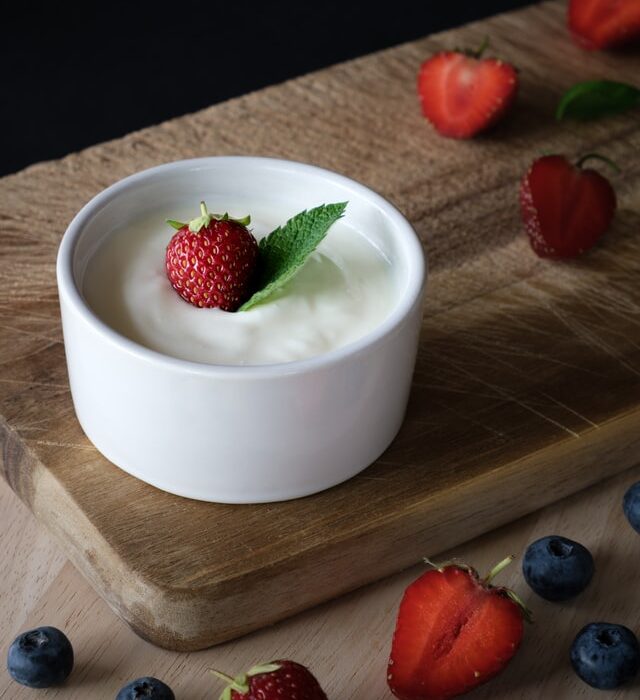 Give your fitness a boost, by incorporating right hydrocolloids to your dairy needs.
The recent trends toward new dairy products with lower fat and lower total solids content has created a need for improved stabilization technology, hence gums and hydrocolloids. Hydrocolloids are used in a variety of manufactured dairy products as stabilizers and thickening or gelling agents. This realization and decades of industrial experience by SARDA have led to the introduction and manufacturing of a large number of hydrocolloids formulated for specific dairy products. For ice cream and other frozen dairy desserts, typical stabilizer blends involve the use of primary colloidal stabilizers (CMC, locust or guar gum) in combination with the other stabilizer, carrageenan.
SARDA provides food grade gums and hydrocolloids of premium and unparalleled quality in the industry.
The in demand yoghurt products require right ingredient solutions, SARDA is determined to deliver varied requirements of the manufacturers for in trend products. Hydrocolloids can also be used as fat replacers for having regret free indulgent treats in health conscious individuals.
Cheese being one of the most sought after food product for its flavor and texture have extremely high demand, hydrocolloids have helped to replace conventional salt based emulsifiers. SARDA provides guar gum and carrageenan that are vegan, non GMO, and cruelty free hydrocolloids for dairy alternative cheeses too. 
The functionality of hydrocolloids in ice cream is linked to cryoprotection – prevention of the recrystallization, enhancement of ice cream mixes viscosity, improvement of texture and mouthfeel as well as shape retention of ice creams during storage.
Hydrocolloids aids to improve product texture, give body to liquid formulations and produce milk gels in dairy products. And also for the formulation of low-calorie flavoured milk beverages and yogurt drinks involves the use of hydrocolloids.
Typical Functions of Hydrocolloid in dairy
Control separation, improve freeze/thaw stability

Improves viscosity 

Enhances mouthfeel 

Limits calories

Maintain and impart desirable colour

Maintains suspension of particulates and oil droplets.
Important properties of hydrocolloids used in dairy?
The interactions among ingredients, the use of hydrocolloids, emulsifying salts, and other functional components, and processing conditions are made to get dairy products with specific characteristics. Hydrocolloids are multifunctional ingredients which are used in a variety of manufactured dairy products as stabilizers, thickening or gelling agents.
Can hydrocolloids be used in non dairy products?
Hydrocolloids are extensively used in alternate dairy products, for stabilizing particles in suspension, giving desired mouthfeel and taste. Hydrocolloids can be used to replace animal-derived gelatine in hydrocolloids confectionery products, that are 100% Vegan, and from non animal source.

For improving the characteristics of bakery products, SARDA offers three grades of guar gum namely 
Guarsar 501 (High viscosity, fast hydrating fine mesh)
Guarsar 351 (medium high viscosity fine mesh)
Guarsar F01 (Low viscosity, perhydrates Guar and odourless)