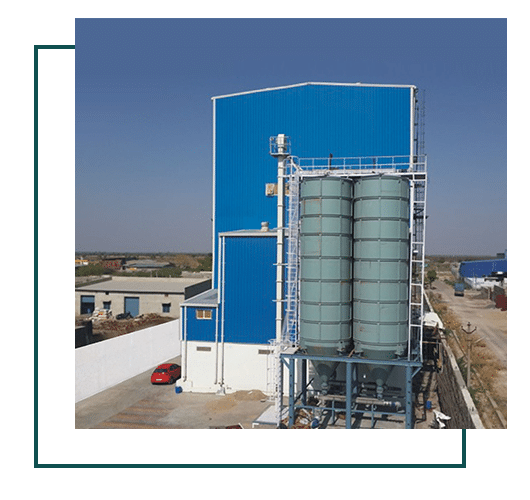 Pioneers of making Efficient, Cruelty free and Green industrial applications!
SARDA GUMS AND CHEMICALS, being part of SARDA GROUP are the pioneers of manufacturing and exporting Gums and Hydrocolloids throughout the world of best grade from India. Founded by Mr. G.L. SARDA, SARDA GUMS AND CHEMICALS gained deep domain knowledge, Quarter-backed by the sophisticated research centre, that offers solutions and customization according to our client's requirements. We have acquired deeper understanding of gums and hydrocolloid with time and our valuable experience. The dedicated 53 years in the industry has helped to mark a niche and produce products and services of the finest quality in the hydrocolloid industry worldwide, provided the adherence to values and beliefs of the clients making us a distinctive player for corporation and service in Food, feed, fuel industry.
Our 7 manufacturing facilities located at the centre of the province of Rajasthan, closer to the raw material producing areas that have been set up complying to highest rankled safety standards. We have cumulatively produced 20000MT Gums and dietary fibres of Guar, Cassia, Tamarind Xyloglucan, Carageenan, Psyllium husk, Konjac, Xanthum, CMC and Super critical fluid extracts. The food grade facilities produce a wide range of spectrum of particle size 40 of 400 mesh and viscosity range are 100 of 10000 CPS for 1%.  Since 1968, we have been manufacturing various industrial grade Gums and Hydrocolloids of high quality with certified highest safety standards FSSC 22000 and label claims like "gluten-free," "non-GMO," "organic" and "kosher."
Our flagship plant established at Pali, a western suburb in the province of Rajasthan
1984 – International and Export Operations
Partnered with world renowned food ingredients giants in Europe and China market space
1984 – International and Export Operations
1998 – Government of India Recognition
Sarda group got recognition as MSME export house by Government of India
1998 – Government of India Recognition
2002 – Award Winning Group with Worldwide Reach
We got awarded the Best Guar Gum Manufacturers by IGMA and reached distribution in more than 41 countries
2002 – Award Winning Group with Worldwide Reach
Sarda Group having heritage of expertise and knowledge and is now led by 3rd Generation of Engineers, MBAs & CFA's
Mission
Our mission is to establish a bond of trust with our customers and provide innovation and expertise to live healthier lives that can help us attain an interminable success.
Vision
Our vision is to tackle our customer's demand with our knowledge and expertise gained through time and give them the best experience of working with us by our consistency, competence and excellence.
Values
We adhere to values and beliefs of our clients and owe to supply them the best of from us by enduring to our quality, safety and purity in the manufactured products.